Written wisdom: Let's all give a howl for the werewolves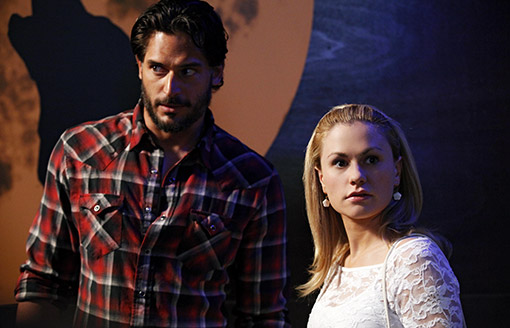 Last night's episode of True Blood (which actually wasn't bad! Yes, there are still too many characters/plot lines/things that I don't care about, but that sociopathic vampire is funny, if sociopathic! And the Bill/Sookie reunion was actually kind of sweet! And Eric! We're only halfway through the season, True Blood! We can still turn this around!) got me thinking about werewolves. Of the three seasons, this is the first that has included them. And I was skeptical. After all, the vampire/werewolf divide is kind of Twilight's territory. And yet! With the introduction and development of werewolves on the show, especially the main one (Alcide, shown here in all his non-wolfish glory), I have to confess—I'm kinda likin' the werewolves. Which made me wonder: why don't more people root for them?
I don't mean to say that we should all run out and buy Team Werewolf t-shirts (again, Twilight). But we, as a culture, have relegated werewolves to the position of silver medalists, whilst we watch the vampires go for gold. For example. On True Blood, the werewolves are sort of rough n' tumble rednecks, whereas the vampires are genteel Southuhnuhs. They aren't as strong as the vampires, they aren't as powerful as the vampires, and they aren't garnering Sookie's attention in the same way that the vampires are (which is, for reasons that I will never fully understand, the barometer of how worthy one is on this show. Disclaimer: Sook, you were actually likable on last night's episode.). But I've given this a lot of thought (by which I obviously mean, "I thought about this as I rode the subway uptown this morning"). And I think I prefer werewolves. 
First, and most importantly, they're kind of like puppies. Like, if a vampire transforms, he sticks fangs out. Ok. If a werewolf transforms—he's got fur! That can be pet! A significant other and a puppy in one! This is just wonderful.
Furthermore, I think one could lead one's life with a greater degree of normalcy without sacrificing a sense of individuality and excitement. Werewolves can go out in the sun. You can go out and take lovely walks together in the daylight. But he's still a werewolf, which is pretty neat. (Yes, he would be a constant threat to your well-being, and no, you would not be able to live in a major metropolitan area, but if you're even considering this hypothetical choice, safety and convenience are obviously not your primary concerns.)
Also, not to bring an entirely unrelated franchise into this, but lest we forget—Professor Lupin, of Harry Potter fame, is a werewolf. You know who/what doesn't make an appearance in Harry Potter? A vampire.
And finally—they're kind of salvaging True Blood for me in a way that vampires are CLEARLY failing to do.
My point is this: werewolves, despite the fact that media programmers seem to think that we need to be supersaturated with vampires, I'd totally watch an HBO series about you.